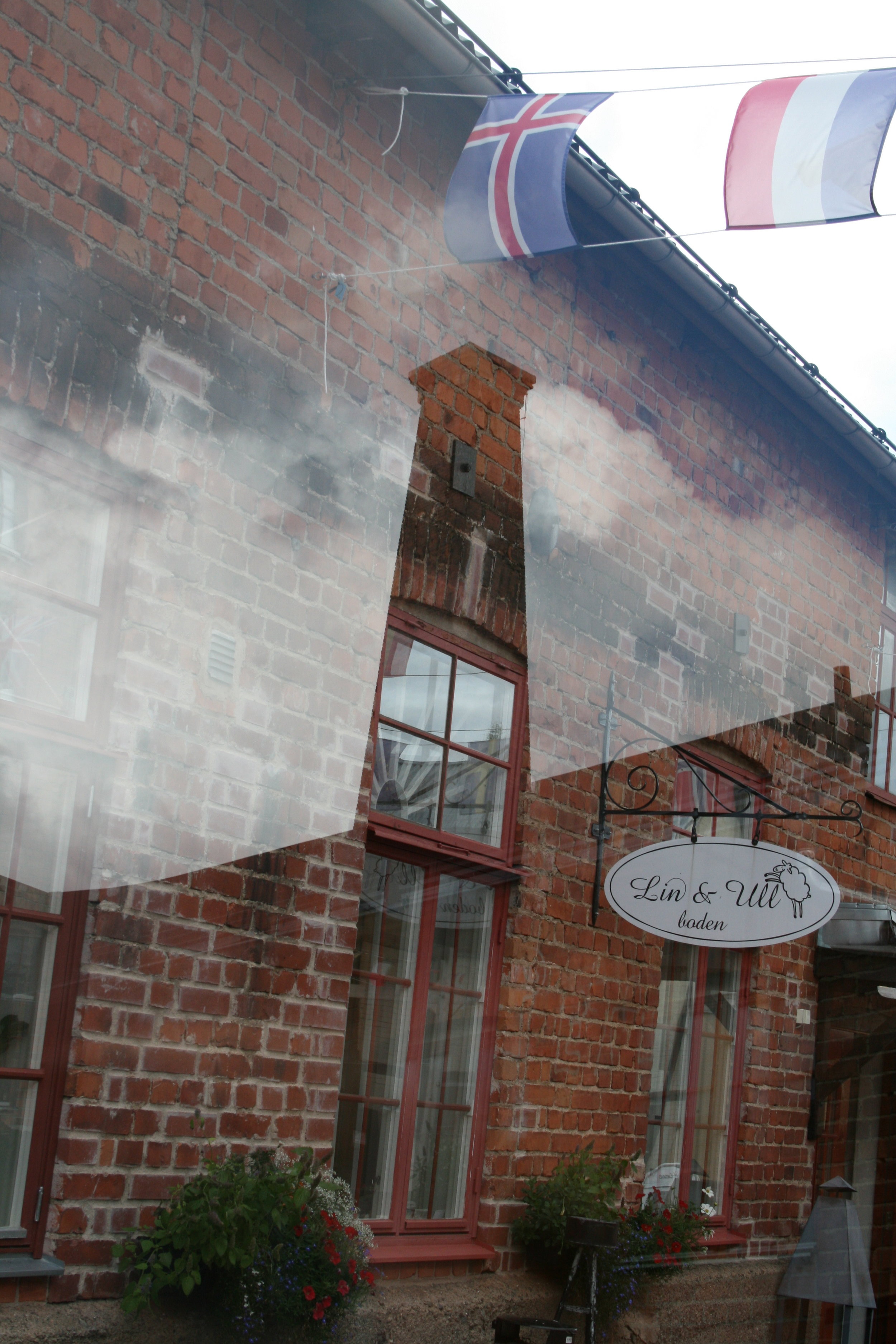 Projects from Transparency & Mediation - an artist residency in the Summer 2010 in Rejmyre, Sweden
My response to spending time in this setting of a romantic small village 'glass town' now turned tourist attraction of the post-industrial era, continues to be complicated in nature; I am both repulsed and appreciative. My working process began by combining my interests in sensing optical phenomena with a series of exercises around town capturing and layering images of the town landmark, the chimney of the glass factory. These attempts to re-familiarize myself with being here, led to the urge to both embrace, examine and question the aesthetics of Rejmyre and in particular the vast amount of odd artifacts, ornaments and souvenirs present in our living accommodations at Rejmyre Vandrarhem.
Out of leftover glass pieces from the local chandelier maker's workshop, I hand-build a small-scale model of the chimney. In the laborious task of gluing bits and pieces together, I became gradually more attached to my creation, initially intended to mirror a colorful and ornamental visual language I would never employ and hence expected to remain detached from. My growing attachment complicated to gesture I carried out, which was to leave the finished glass model behind and on permanently display at Rejmyre Vandrarhem, as an addition to the wealth of artifacts already there, not knowing if it would be accepted as one of them.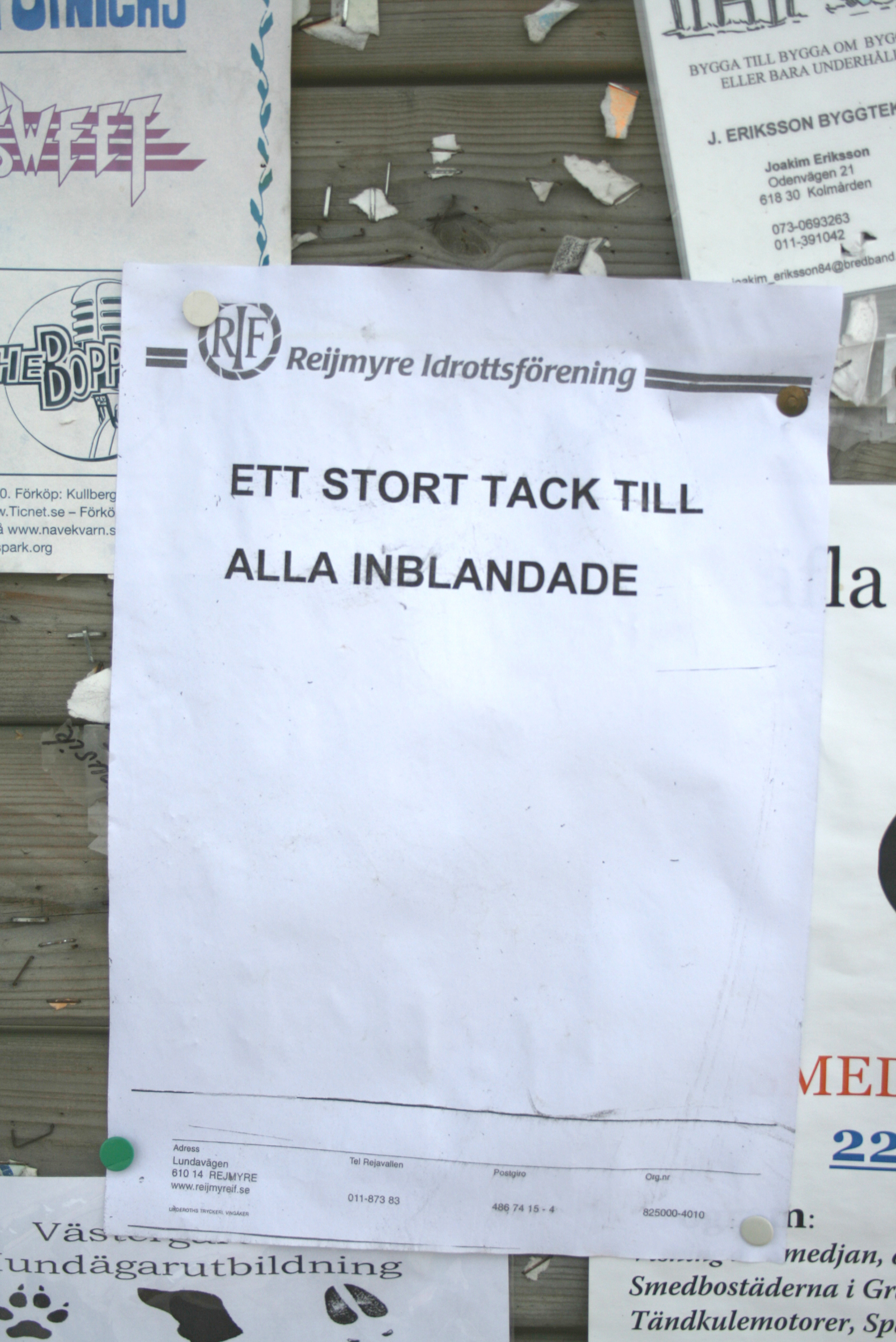 Projects from Place as Matter - a workshop held in the Summer 2009 in Rejmyre, Sweden
Coming to Rejmyre as a stranger, I found myself immediately invested in questioning the role of the glass factory as Rejmyre's reason for existence and simultaneously as representative of the burden of being dependent on a shrinking industry. Inevitably what strikes anyone entering Rejmyre's main street is a romantic notion of a small village 'glass town' now turned tourist attraction of the post-industrial era. In "Reijmyre Glasbruk 1810 - 1926, 1932 - " I erected a gravestone for the factory at a memorial site in the local cemetery, among the family graves of its workers. I left the end date open, implying that perhaps it had already passed.

"Har du hört????" (Have you heard????) was a group intervention that re-edited and altered the local bulletin board where everyday announcements are hung. As outside observers it was clear that the richness of the announcements called for an intervention that did not aim at adding new elements or changing the overall look of the board, but asked for the addition of layers of absurdity, humor and wonder.

In an effort to shift focus towards working with Rejmyre as site, I inhabited the inside of the old glass mill, in an empty space that was once used for storage. Here I carried out four 'urges' to try to become familiar with the space. "The four urges (extractions and imaginations of a place)", with four subtitles: "Sound recorded with no-one in the room", "Segment with surface removed (194 grams of dust)", "The death of a glassworker" and"Imprints of a wall", I investigated the materiality of layers of dirt, the residue of wall paint turning slowly to dust and the soundscape of an empty room where sound was echoing from the floors underneath and the roof above. In the smallest room, farthest away from the exit, a mass of blood-red and bone-white glass shards from the factory was piled on the floor to satisfy my imagination of a past, fatal event taking place in these deserted spaces.